Positioned as a gateway to the Middle East, Jordan is emerging as one of the world's most desirable locations for investment in health and wellness. This includes medical and spa tourism, pharmaceutical industry, bio-medical research and production, medical equipment sales, and wellness products from the Dead Sea.
One of Jordan's primary assets in the medical services sector is its workforce, as the country boasts over 28,000 physicians most of whom are board certified in the United States, United Kingdom, Canada or other European countries and a growing team of nurses that are experienced in state-of-the-art patient care.
The Government of Jordan actively promotes investment in the healthcare and wellness sector through the Jordan Investment borough.
Another asset in the Jordanian health and wellness sector is its competitive cost structure, which offers medical services at a low-risk platform to serve the Middle East and North Africa (MENA) market.
All hospitals in Jordan have implemented anti-infection programs, which proved to be effective during the Arab Spring; since Jordan treated more than 150,000 wounded and sick patients from a number of neighboring Arab countries in a record time period, and no infectious disease spread among these patients although they came from infected population as a result of wars in their countries.
Jordan is achieving success because of the importance it has placed on the development of quality healthcare as 9.3% of GDP is spent on health.The following table highlights Jordan's expenditures relative to GDP  in comparison to selected countries: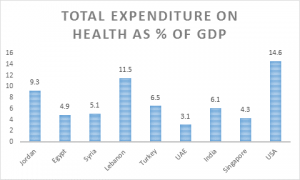 Source: Nation Master.com (http://www.nationmaster.com/graph/hea_tot_exp_on_hea_as_of_gdp-health-total-expenditure-gdp)
The above graph shows that Jordan's expenditures on healthcare is from the highest, these expenditures includes upgrading the medical facilities and equipment in addition to providing training opportunities for the healthcare providers which is reflected positively on the medical services provided for Jordanian and non-Jordanian patients.
Medical Specialties
Jordan boasts significant expertise in a variety of medical specialties such as oncology, pediatrics, cardiac surgery, acute care, orthopedic, cosmetic surgery, psychiatry and drug addiction to name a few. Jordan has 28.6 physicians for every 10,000 population, which is the highest in the region. Currently, Jordan has 69 private hospitals and 2 university hospitals, in addition to 31 MOH hospitals and 15 Royal medical services hospitals.
In terms of specialty surgical procedures and care, Jordan has a long and impressive history of success. The following outlines the milestones in the country's medical achievements:
| | |
| --- | --- |
| First Open Heart Surgery | 1970 |
| First Kidney Transplant | 1972 |
| First Laparoscopic Surgery | 1973 |
| First Heart Transplant | 1985 |
| First Stem Cell Transplant | 1985 |
| First born IVF baby | 1987 |
| First Bone Marrow Transplant | 1987 |
| First Cochlear Transplant | 1998 |
| First liver Transplant | 2004 |
Over the years Jordan has emerged as one of the most desirable locations in the region for medical tourism, and it is rapidly developing an international reputation for high quality and affordable health care. And now there are (10) Joint Commission International (JCI) and (25) Healthcare Accreditation Council (HCAC) accredited hospitals which ensure international standards in care and customer service, along with an affordable cost structure, make "Turning to Jordan" for quality, care a natural choice. From the perspective of cost, Jordan's costs of treatment are very competitive on the international level. The following table highlights the cost comparison between procedures done in Jordan versus other countries that are known for quality health care:
Table 1: Cost comparison between Jordan and other countries for selected procedures (US $)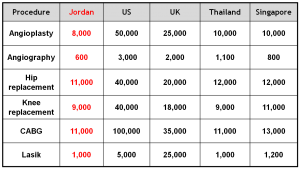 Patients from around the world benefit from choosing Jordan as their destination, with around 250,000 patients visiting Jordan annually for treatment, and over one billion US dollars in revenue.
Jordanian hospitals both private and public sectors invested heavily in modern technology, with the latest MRI, CT-Scan, nuclear imaging and IVF equipment as standard equipment in most private hospitals.
Spa and Wellness
Jordan is known for its natural spa resorts, which include mineral water and hot waterfalls stretching from the Jordanian area of Al-Homma to the city of Aqaba on the shores of the Red Sea to the south. Jordan also has the largest natural spa in the world, the Dead Sea, which is the lowest spot with a slope of 427 meters below the surface of the sea. These natural resorts are characterized by a large number of international investments including five-star hotels and physiotherapy centers that meet international standards in terms of modernity, processing, hotel services and medical treatment provided.
In addition to the large number of health resorts and hotels in Jordan, the natural Dead Sea products extracted from sea water and rich in natural mineral salts and which help in the treatment of many skin diseases are among the most important natural elements used by hotels and resorts in the service and treatment of tourists and Jordanians.
Medical Research and Technology Sales
Jordan has a reputation for its medical services around the world, making it a destination for investors who want to establish sales companies for medical equipment and technology especially with a large number of experienced engineers and technicians.
Jordan's strategic and distinguished position, which has made it an open market for the Middle East and North Africa, commercial and economic advantages especially in medical technology and large investments, has generated billions of dollars in revenues. Jordan's political stability and investment promotion law helped international companies and investors to seek Jordan as a corporate destination in different sectors. The investment in the medical field, especially in the construction of modern hospitals, has grown significantly in previous years, where it is currently considered the highest compared to neighboring countries that are trying to catch up with the rapid medical development in Jordan.
Pharmaceutical industry
The pharmaceutical industry in Jordan has developed over the past 48 years in a good way. The pharmaceutical industry has contributed positively to the adjustment of the trade balance of Jordan and the reduction of its deficit so that the Jordanian pharmaceutical industry is a leading export industry. Due to its high quality and reputation, 80% of its production is exported, where the Jordanian drug is exported to more than 70 countries in different continents.
The industry employs more than 5500 employees and employees. The number of graduates (diploma, bachelor, master and doctorate) is approximately 67% of the total workforce in the industry. This sector clearly indicates that the sector is based on a strong and solid infrastructure of qualified human resources and efficiency.
Human Resources in Jordan
Jordan is among the region's highest spenders on education and manpower development.
Jordan has the highest literacy rate in the Middle East, with a literacy rate of 95%.
More than 200,000 students enroll in university education in 23 Jordanian universities, as well as 20,000 others who receive university education abroad.
The number of physicians in Jordan is 28.6 doctors per 10,000 population, and this percentage is of the highest rates in the world.
The number of nurses in Jordan is 32 nurses per 10,000 population.
The number of pharmacists in Jordan is 17.8 pharmacists per 10,000 population
The number of dentists in Jordan is 10.4 dentists per 10,000 population
Hospitals
Currently there are 117 hospitals in Jordan offering services to Jordanian and non-Jordanian patients. The number of private hospitals is 69, while the government has 31 hospitals, 15 hospitals for the royal medical services and 2 university hospitals. These hospitals offer various medical specialties to patients such as Cardiovascular related diseases, Neurosurgery, Orthopedics, Pediatrics, Cancer Treatment, Infertility, Ophthalmology, Beauty, Psychiatry, Addiction and other medical specialties.
Source: www.phajordan.org