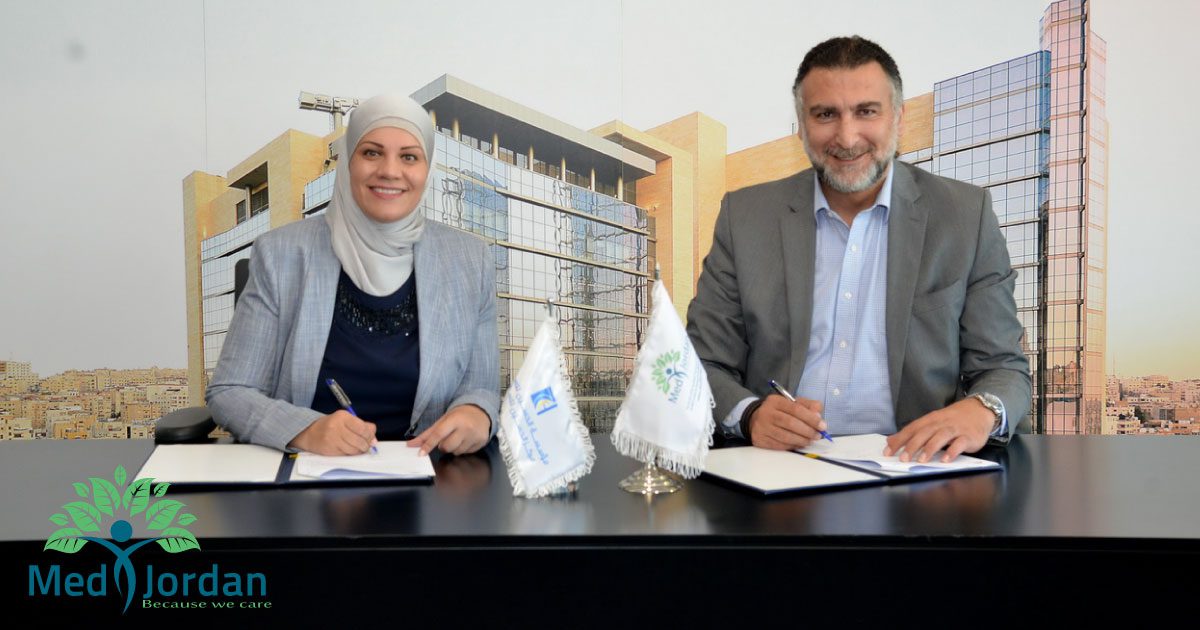 Mrs. Nisreen Qatamish, General Manager of King Hussain Cancer Foundation (KHCF) and Mr. Walid Tahabsem, President and CEO of Jordan's Gateway to Medical and Wellness Tourism (MedXJordan), signed a joint memorandum of understanding targets listing and launching KHCC in the comprehensive e-portal dedicated to the development and promotion of the medical and hospital tourism in the Kingdom, the first of its kind in the field.
(MedXJordan) portal represents Jordan's National Gateway which is a comprehensive portal that is vital to Medical and Wellness Tourism aims to enhance the national healthcare sector.
Through establishing partnerships with key stockholders to establish and strengthen public-private cooperation in order to gain support and to address medical and wellness tourism, MedXJordan established the MoU with KHCF to market the center which aims to facilitate the process of communication and interaction between patients from inside and outside the Kingdom, providing the medical services in Jordan in a readily accessible, efficient showcasing medical wellness and hospitality services of the center with the aim to increase medical care and wellness service providers in an efficient, transparent and with consistent monitored and measurable goals.
During the ceremony, Mrs. Qatamish expressed her readiness for this integration stating: "The cooperation of KHCC and MediXJordan marks an important step in our era in which everyone prefers to access services electronically. This is in line with our keenness to facilitate the procedures of the arrival of Arab cancer patients to the center easily, especially with the increasing numbers of patients who go to the center in search of treatment with international techniques, but in an Arab environment we cherish".
In his turn, Mr. Mubarak – MedXJordan Vice-President, emphasized MedXJordan support for KHCF partnership in this regard, saying: "What distinguished MedXJordan is its vast clients service orientation which provides the best solutions that facilitate the medical and wellness ecosystem as a reflection to the royal vision of His Majesty King Abdullah II, of creating a collaboration between the public and private sectors in terms of Medical Tourism." Mr. Karim also praised the technology-driven medical tourism portal (MedXJordan) as it's the gateway to Jordan's medical and wellness which created the ecosystem aims to micro-targeting patients globally.
It is worth mentioning that Jordan's Gateway to Medical and Wellness Tourism (MedXJordan) aims to create a consolidated hub providing comprehensive information to site visitors about Jordan as a medical tourism destination which leads to enhancing patients experience by integrating medical, wellness and concierge services through technology.